Written by James Denselow
Friday, 12 August 2016 08:46
Book Review - Such is the level of horror coming out of the conflict in Syria and Iraq that people have become numb to the statistics. Hundreds of thousands are dead, millions have been forced from their homes, and countless lives have been torn apart as states collapse in on themselves.
Into this bloody mix emerged ISIS, the bête noire of modern terrorism. Ruthless, rich, media savvy, and a threat not just to those in Syria and Iraq but seemingly everyone else who contests their vision of a Caliphate. The fight against ISIS has brought in four of the permanent five members of the United Nations Security Council and has become one of the central narratives in international relations today.
Into this story of countries at war from within and without comes the tale of Farida Khalaf, as translated and edited by the journalist Andrea Hoffmann. Farida's story cuts through the statistics and the geopolitics to tell of a single life changed forever by a war that arrived in their village of Kocho, on a plain to the south of Mount Sinjar in northern Iraq.
Read more...
Written by James Denselow
Friday, 12 August 2016 08:43
After five years of brutal conflict in which half the population has been forced from their homes, there is still no end in sight to the war in Syria.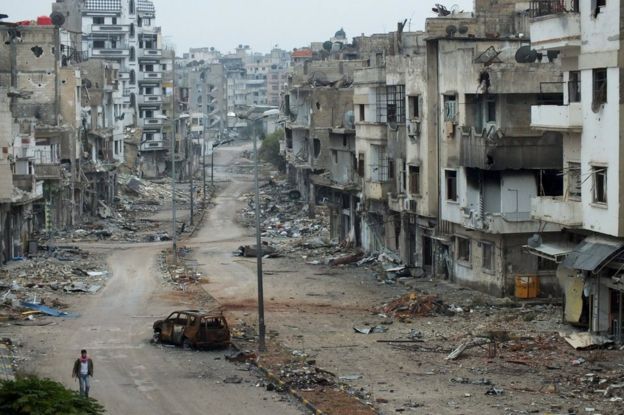 One of the reasons behind this longevity is that Syria has become a post-factual conflict and it is that dynamic that fundamentally undermines any political solution.
So what does it mean to be a post-factual conflict?
Read more...
Written by James Denselow
Friday, 17 June 2016 15:22
(Al Jazeera) Almost six months on from when direct talks were scheduled to begin, is it time to admit the failure of the latest Syrian peace process and look into alternative ways forward?
United Nations Envoy Staffan de Mistura announced last week that he would not attempt to reconvene the Syria peace talks until August, saying that the time was "not yet mature for the official third round of intra-Syrian talks".
Violence in the country is spiking and making a mockery of the international community's "cessation of hostilities" agreed in February. Things are looking particularly bad in Aleppo as the regime and allied forces apply the squeeze on opposition-held areas.
The one route out of the city has become known as "the road of death" such is the frequency of strikes upon it, and those civilians who remain fear a total siege. Muskilda Zancada, the head of mission for Syria at Doctors Without Borders bemoaned how "the world is turning a blind eye" to the carnage in Aleppo.
"Hospitals, markets and residential areas are still under fire, and no one is doing anything to put out the flames," she said.
Read more...
Written by James Denselow
Friday, 17 June 2016 15:20
(The New Arab) The bombing of a bank in Beirut earlier this month, led some commentators to point out how important credit lines from Lebanese financial institutions will be, when the time comes to begin rebuilding Syria.
Last Updated on Friday, 17 June 2016 15:28
Read more...
Written by James Denselow
Friday, 06 May 2016 15:27
(Al Jazeera) The citadel that dominates the Aleppo city skyline gives the place a sense of timelessness and permanence, yet Syria's biggest city is currently facing an existential challenge. If, or more likely when, the opposition-controlled areas are cut off from the outside world it will signal not just the biggest siege in the country to date but also a new chapter in the five-year conflict.
The Geneva process, which contained so much hope and promise, gathering the main players and backers into an ambitious series of deadlines for transition and constitutional reform, will surely not survive the siege or fall of Aleppo.
The cessation of hostilities, the main positive to emerge from the talks, saw a huge reduction in mortality rates and 3.7 million Syrians receive food aid in March alone.
Increasingly, however, it could be seen not as a genuine space for peace to emerge but rather a period for redeployment before this latest offensive was launched.
Read more...
<<

Start

<

Prev

1

2 3 4 5 6 7 8 9 10 Next > End >>


Page 1 of 35